News
Stefan James becomes acting director of UCR
Stefan James, Chief Physician and Professor of Cardiology and Scientific Leader for UCR, has been appointed acting executive director during the recruitment period for a new executive director for UCR.
During Stefan James leadership, UCR will continue our strive to continuously increase medical knowledge and improve health through research and quality monitoring, on behalf of both academia and industry.
On March 16, former director Jonas Oldgren took up the newly established position of Secretary General of Clinical Research at the Swedish Research Council. Jonas will, however, remain at his position as a clinical professor at Uppsala University and the University Hospital and will complete ongoing collaborations and continue to run clinical research projects at UCR and the Department of Medical Sciences.
If you have any questions:
Email: This email address is being protected from spambots. You need JavaScript enabled to view it.
Phone: 018-611 9500
Invitation to Symposium on the ABC study - 1 June

Biomarkers of Clinical Relevance – The ABC Risk Scores in Cardiovascular Diseases
In the ABC Risk Score project new tools for precision medicine in cardiovascular diseases have been developed. At this half-day symposium achievements obtained within the project will be presented and discussed. The ABC Risk Score project has been financed for 5 years by the Swedish Foundation for Strategic Research.
Time: Wednesday 1 June, 2022, 13.00-17.00 pm
Place: Martin H:son Holmdahlsalen, Entrance 100, Dag Hammarskjöldsväg 8, Akademiska sjukhuset, Uppsala

Very welcome,
Agneta Siegbahn, Lars Lind, Jonas Oldgren and Lars Wallentin

Program of the symposium attached.
The symposium is free of charge, including coffee and some light refreshments. Please follow the link to register for the event: https://www.ucr.uu.se/en/abc-study-symposium
We kindly ask those who plan to attend the coffee break and evening mingle to register by May 25.
Precision medicine improves tailoring of treatment in patients with atrial fibrillation and allows direct estimation of clinical benefits with oral anticoagulation.
New study from Uppsala, Hamilton, Canada, published in Circulation shows that biomarker-based ABC-AF-scores provide more reliable balancing of risk for stroke versus the risk of bleeding in patients with atrial fibrillation with and without treatment with oral anticoagulation.
(Circulation 2021 May 11;143(19):1863-1873)

What Is New?
The biomarker-based Age, Biomarkers, Clinical history (ABC) atrial fibrillation (AF) scores for the assessment of the risks of stroke, major bleeding, and death shows good discrimination of risk in patients with atrial fibrillation not receiving oral anticoagulation.

In patients not receiving oral anticoagulation (as previously also shown in patients on oral anticoagulation), the ABC-AF scores were superior to clinical scoring systems such as CHA2DS2-VASc or HAS-BLED.
The ABC-AF-stroke and ABC-AF-bleeding scores were recalibrated for prediction of absolute event rates in the absence of oral anticoagulation.
What Are the Clinical Implications?
The biomarker-based ABC-AF scores are now validated in, and calibrated for, patients with atrial fibrillation both with and without oral anticoagulation, allowing estimation of the absolute risks of stroke, bleeding, and death with different antithrombotic regimens.


The ABC-AF scores can therefore provide improved decision support on optimal antithrombotic treatment of an individual patient with atrial fibrillation.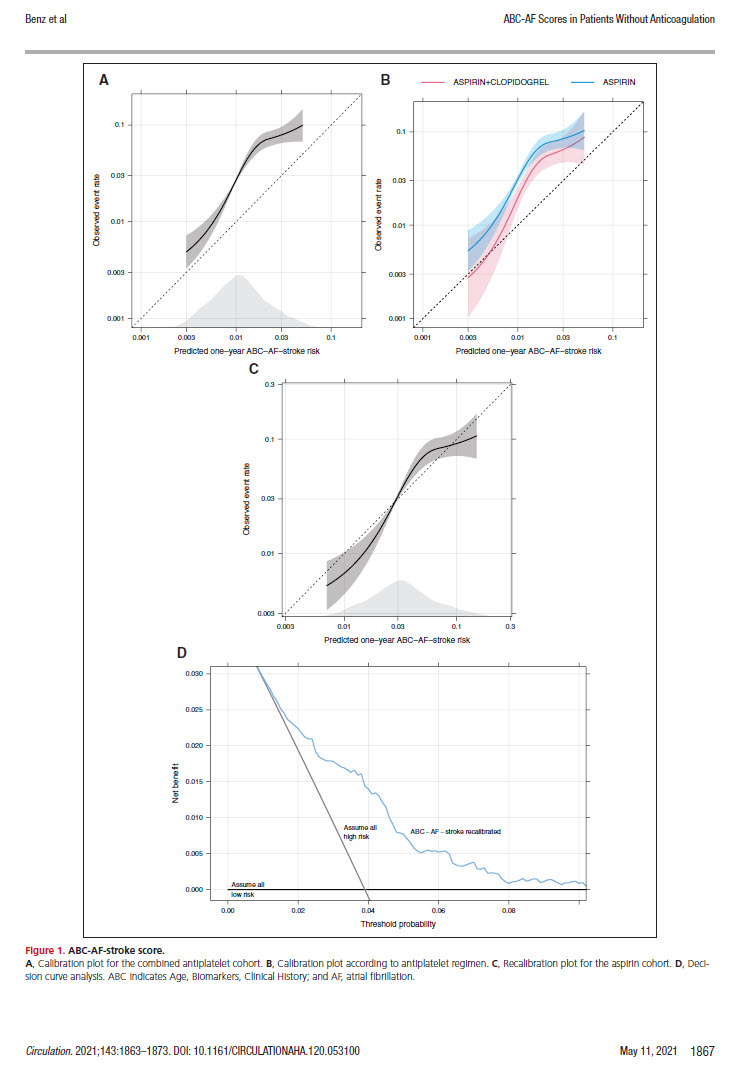 Atrial fibrillation is the most common cardiac arrhythmia that occurs in around 3 % of the population in high income countries. The prevalence increases substantially with increasing age and affects around 10 % of the population above 75 years of age. Atrial fibrillation is associated with an increased risk of stroke and death which can be reduced by oral anticoagulation, although at the cost of an increased risk of bleeding. Therefore, there is a need for individualization of treatment in order to balance the risk of stroke and risk of bleeding. During the last decade drs Ziad Hijazi, Johan Lindbäck, Jonas Oldgren, Agneta Siegbahn and Lars Wallentin and collaborators in Uppsala have shown that circulating biomarkers are more important for the prediction of risk of stroke, death and bleeding than information on clinical factors alone in patients with atrial fibrillation treated with oral anticoagulation.
During the last years the group has developed novel biomarker-based risk scores – the ABC-AF (Age, Biomarkers, Clinical history in patients with Atrial Fibrillation) scores for stroke, major bleeding, and death . These risk scores were shown to outperform traditional risk scores in patients receiving oral anticoagulation. In order to further refine their utility, the ABC-AF scores needed to be investigated and validated in patients not receiving oral anticoagulation in order to predict the effects of oral anticoagulation.
During the last year the Uppsala investigators have collaborated with a group from Hamilton in Canada to evaluate the biomarker-based ABC-AF-risk scores using data from two clinical trials including patients with atrial fibrillation treated with aspirin (n=3195) or aspirin and clopidogrel (n=1110) and not with oral anticoagulation. The results showed that the ABC-AF-stroke score yielded a c-index of 0.70 (95% CI, 0.67–0.73) in both the cohort of patients only on aspirin and in the cohort of all patients combined. The ABC-AF-bleeding score had a c-index of 0.76 (95% CI, 0.71–0.81) in the aspirin-only and 0.73 (95% CI, 0.69–0.77) in the combined cohort. Both scores were superior to risk scores recommended by current guidelines. The ABC-AF-death score yielded a c-index of 0.78 (95% CI, 0.76–0.80) in both cohorts. Calibrated for patients receiving oral anticoagulation, as expected the ABC-AF-stroke score underestimated, and the ABC-AF- bleeding score overestimated, the risk of events in patients treated with aspirin (or aspirin and clopidogrel). The original scores were recalibrated for prediction of absolute stroke and major bleeding risks in patients receiving these treatments in the absence of oral anticoagulation.
In conclusion, the biomarker-based ABC-AF scores showed better discrimination than traditional risk scores and were recalibrated for precise risk estimation in patients not receiving oral anticoagulation. Therefore, the ABC-AF scores can now provide improved decision support regarding the treatment of patients with AF.
If you want to read the whole article in CIRCULATION, click here
Jonas Oldgren
This email address is being protected from spambots. You need JavaScript enabled to view it.
Executive Director UCR
Professor Coagulation Research at Department of Medical Sciences
Uppsala University
Lars Wallentin
This email address is being protected from spambots. You need JavaScript enabled to view it.
Senior Professor Cardiology, UCR
Department of Medical Sciences
Uppsala Universitet
Ziad Hijazi
This email address is being protected from spambots. You need JavaScript enabled to view it.
Associate Professor Cardiology, UCR
Department of Medical Sciences
Uppsala Universitet


DAPA- MI is the first indication-seeking double-blind Registry-based Randomized Controlled Trial (R-RCT)

DAPA-MI is a result of collaboration between the study sponsor AstraZeneca and Uppsala Clinical Research Center.
The DAPA-MI study will evaluate the effect of dapagliflozin (Forxiga/Farxiga), given once daily in addition to Standard of Care therapies for patients with myocardial infarction, but without known diabetes, for the prevention of hospitalization for heart failure or cardiovascular death. This is a double-blind registry-based randomized placebo-controlled trial, R-RCT. The innovative indication-seeking trial will recruit around 6,400 patients from approximately50 hospitals in Sweden and 50 hospitals the UK. In addition, the trial is using digital technologies to promote patient engagement and study drug adherence.
Prospective data collection is done through two national cardiovascular disease quality registries, SWEDEHEART, hosted by UCR in Sweden and MINAP, hosted by NICOR (National Institute for Cardiovascular Outcomes Research) in the UK. This is possible due to a long standing collaboration between UCR and NICOR with MINAP being built on UCRs registry platform QReg5. UCR is a nationally and internationally leading non-profit academic research organization with expertise and broad experience within R-RCT.
Innovative components in DAPA-MI trial
Use of quality registers from clinical routine will accelerate and expand patient recruitment,
National data will cover the entire population in Sweden, Wales and England through a shared technical platform.


Streamlined trial design with automated data transfer from routine practice will reduce patient and investigator burden. Data is prospectively collected at the point-of-care.
A mobile phone device App for information sharing and signaling of events will allow remote patient monitoring.

The patient will be asked regularly if he / she has been hospitalized due to heart failure. The patient can also read about cardiovascular disease and medications in the App. Patients will be offered to receive reminders when it's time to visit the clinic.
Use of CleverCap Lite bottle caps technology will allow "real time" monitoring of study drug adherence, and opportunity for the Investigator to follow up on patterns of irregular or low adherence.


Myocardial infarction (MI) affects more than 7 million individuals each year. Previously observed improvements in post MI prognosis have reached a plateau in recent years.
Novel approaches need to tackle post MI heart failure development which is the strongest predictor of mortality. Due to its mode of action, dapagliflozin is hypothesized to reduce the risk for development of heart failure following MI.

Dapagliflozin may be a relevant pharmacological addition for the treatment of MI, where new therapies have not emerged in over a decade.

Crucial findings on drug-releasing balloons and stents - Article in NEJM
No mortality increase with paclitaxel-coated balloons and stents in peripheral arterial disease
An interim analysis from the Swedish Drug-Elution Trial in Peripheral Arterial Disease (SWEDEPAD) has now been presented. It shows that, for patients with lower limb occlusive arterial disease, paclitaxel-coated balloons and stents do not bring about the rise in mortality previously reported. The study, led by the University of Gothenburg and published in The New England Journal of Medicine (NEJM), is expected to resonate internationally.
Peripheral arterial disease (PAD) is common, especially in older people, and causes poor blood circulation. The condition entails stenoses or occlusions of the arteries in the leg. This often causes severe pain, ulcers, and a high risk for lower limb amputation.
The most common treatment is endovascular balloon dilatation, sometimes combined with insertion of stents, small metal-mesh tubes that reinforce the vessel wall and prevent elastic recoil. The procedure, using a catheter inserted into the femoral artery in the groin, is minimally invasive — that is, performed with the least possible surgical trauma to the body.
What the researchers did, as described in the current report, was to compare patients randomly assigned to undergo either dilation of the blood vessel with conventional devices, without any drug coating, or with the more expensive drug-coated devices, all of them using paclitaxel as coating agent. With data on approximately 2,300 patients included to date, the study is by far the largest of its kind in the world.
The finding, that mortality rates in the two different groups do not differ, is expected to be highly influential. The question of a possible increase in mortality among patients treated with paclitaxel coated balloons and stents has been a subject of lively debate in recent years.
Solution to clinical dilemma offered
In December 2018, a meta-analysis of all previous randomized studies was published by Dr Katsanos and co-workers. Surprisingly, the article reported increased mortality among patients who had received treatment with paclitaxel-eluting balloons and stents compared to control patients.
The use of these products then declined sharply all over the world and the U.S. Food and Drug Administration (FDA) was among the organizations that urged caution in using them. In the subsequent discussion, the 2018 results were called in question; but until now no randomized study sufficiently large to settle the matter has been carried out.
The first author of the NEJM article, and also chair of the steering group of this study, is Joakim Nordanstig, associate professor of vascular surgery at Sahlgrenska Academy, University of Gothenburg, and senior vascular surgeon at the Sahlgrenska University Hospital.
"We're proud and pleased that we in this way were able to provide a solution to the tricky clinical dilemma that arose when long-term patient safety relating to the treatment with paclitaxel-coated balloons and stents was called into question," Nordanstig says.
"Above all, our results are important for all the patients who are living with PAD and are facing a lower limb arterial procedure. Drug-eluting balloons and stents have been used widely around the world, and currently represent the most promising technique we have for preventing postoperative recurrence of stricture in the dilated artery. That kind of recurrent stricture is by far the most important limitation of invasive interventions in PAD, and it's something that affects a lot of patients," he continues.
"It's also hugely gratifying that Swedish vascular surgery and interventional radiology, working really well together, have truly been able to help solve an international treatment dilemma. Our study is definitely a team effort, and all the vascular surgeons, interventional radiologists and vascular and radiology nurses in Sweden who've taken part can stand a bit taller today."
Reassuring result: new patients to be included
The corresponding author, and also the principal investigator of SWEDEPAD, Mårten Falkenberg, professor of vascular interventions at Sahlgrenska Academy, adds that the study is funded mainly by the Swedish Research Council. It is carried out within the framework of Swedvasc (Sweden's National Quality Registry for Vascular Surgery), which is administered by the Uppsala Clinical Research Center (UCR) at Uppsala University. UCR is where the study platform was developed and the data processing has taken place. Scientists at UCR have previously conducted several studies of a similar design, and the collaboration between the University of Gothenburg and UCR has been a success factor.
"It's unusual for an interim analysis to be published in the world's top-ranking medical journal. The reason for it is that, in all probability, our finding — although it's a negative one and thus doesn't demonstrate any differences between the treatment groups — solves a medical dilemma with major clinical and financial implications world-wide," Falkenberg says.
"With this convincing and reassuring result, we've resumed our study, and a further 1,400 patients are now to be included. When it's all complete, we expect to be able to show whether the new technique, using drug-eluting balloons and stents, improves the outcomes that are most important for patients with peripheral arterial disease; decreased amputation rate and improved quality of life, as this still remains to be proven", Mårten Falkenberg concludes.
- SWEDEPAD is the first registry-based randomized study in the Swedvasc registry and with its 2300 patients is the, without comparison, the largest study done of balloon dilation in patients with narrowed blood vessels in the legs. The study has been planned to include twice as many patients and will continue to hopefully later also be able to show effects on eg risk of amputation and quality of life, says Stefan James, Professor at the Department of Medical Sciences, Cardiology and scientific leader at Uppsala Clinical Research center,
- The fact that the study is published in the world's most cited scientific journal in medicine shows once again that UCR - as a register center for Swedvasc and co-responsible for the implementation of the study SWEDEPAD - has quality registers and clinical research that is world-leading. This study directly affects the treatment of patients with vascular disease in Sweden and around the world, Stefan James concludes.
Title: Mortality with Paclitaxel-Coated Devices in Peripheral Artery Disease
https://www.nejm.org/doi/full/10.1056/NEJMoa2005206?query=featured_home

Contacts:

Stefan James, senior professor i Kardiologi
Uppsala Kliniska Forskningscentrum och Institutionen för Medicinska Vetenskaper
Uppsala Universitet, Uppsala

Email: This email address is being protected from spambots. You need JavaScript enabled to view it.
Tel: 018-6119500