News
Biological aging linked to the risk of COVID infection.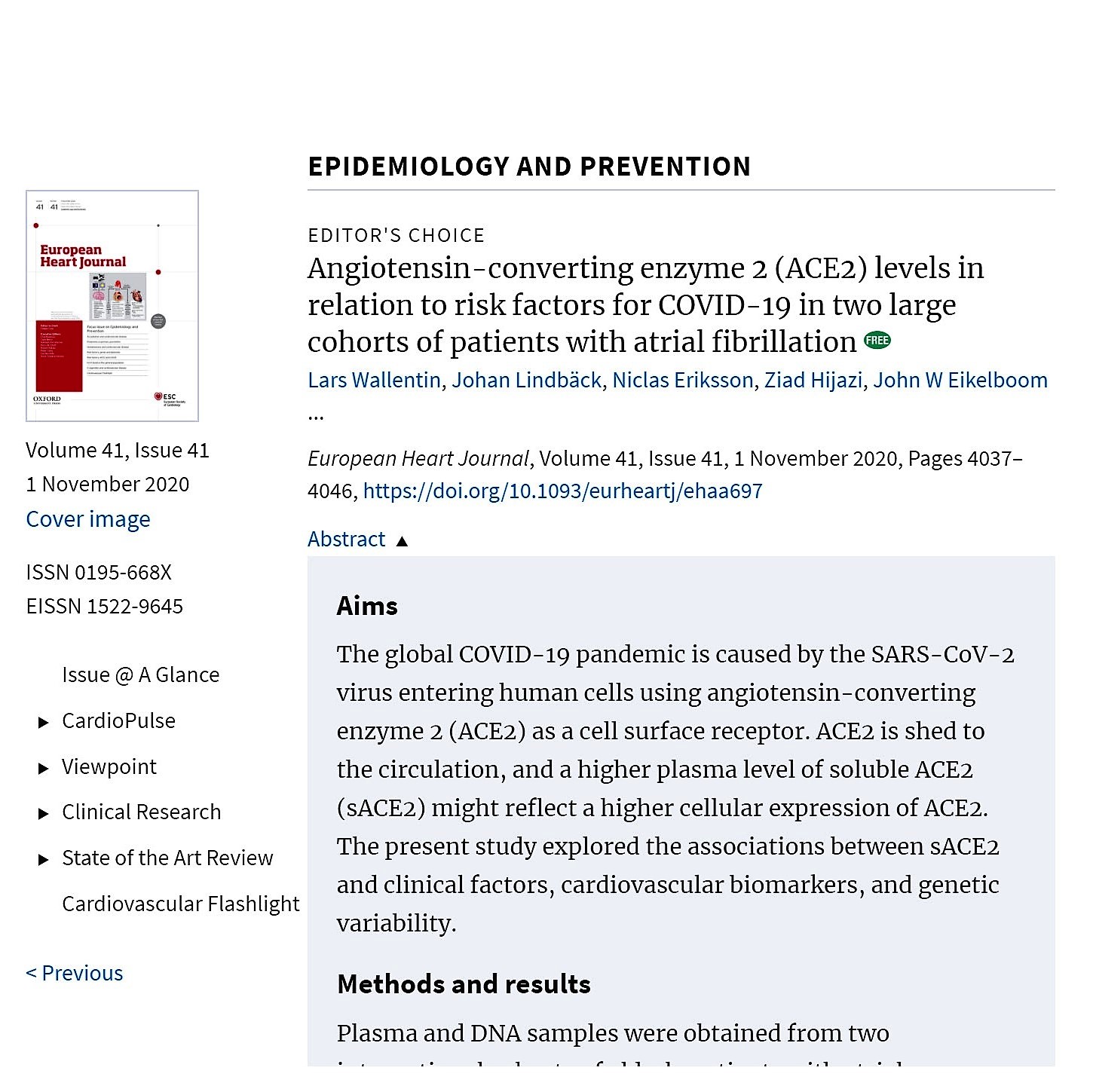 Biological aging linked to the risk of COVID infection.
Why is severe COVID-19 infection most common in the elderly, and more common in men than women in all countries of the world? Lars Wallentin and his local and international research group have shed light on this issue in a scientific project recently published in the European Heart Journal. The coronavirus SARS-CoV-2 binds to the protein ACE2 on the surface of the cells, allowing the virus to enter the cells. ACE2 is a molecule that participates in the regulation of blood pressure and which is also released from the cells and enters the bloodstream. The research team showed that the level of ACE2 in blood plasma, in two groups with a total of 5087 patients with the usual heart rhythm disorder atrial fibrillation, increased with age, male sex, diabetes and other heart diseases. At the same time, they measured another substance in blood plasma, GDF-15, which the group has previously shown to be a good indicator of biological aging and the risk of age-related diseases. It was then found that the level of GDF-15, ie biological aging, and male sex were the factors that were most strongly related to the ACE2 level. The researchers believe that the results suggest that the ACE2 level in blood plasma reflects an increased ACE2 level in the cells and thus entails an increased risk of COVID infection. This is consistent with infection data from all countries affected by the virus, where increasing biological age and male sex are associated with an increased risk of COVID infection. In addition, the results indicate that measurement of GDF-15 levels would be an interesting opportunity to assess the risk of developing severe COVID-19 infection. Lars Wallentin says that "it is very exciting that the reason for differences in COVID-19 infection could be due to aging leading to an increasing number of gateways for the virus and not just to a declining immune system". The current study was published online in the European Heart Journal, September 27, 2020.
The study was based on chemical analyzes of ACE2 and GDF-15 and several other substances in blood plasma from patients who were part of the large international clinical trials of new drugs for stroke (ARISTOTLE and RELY) which were conducted in 2006 - 2011. The blood samples have since the end of the studies been stored in Uppsala Biobank and used in many research projects. The biochemical analyzes were performed at the Uppsala Clinical Research Center's (UCR) laboratory and the Science for Life laboratory in Uppsala. GDF-15 has been measured using a method developed in collaboration with ROCHE Diagnostics. ACE-2 has been determined using a method developed by the Uppsala company OLINK. The statistical analyzes have been carried out by the statistics group at UCR.
If you want to read the whole article in European Journal of medicine, click here.
Results of PROSPECT II Natural History Study
Results of PROSPECT II Natural History Study, demonstrate high-risk plaques identified by NIRS + IVUS Imaging are linked to future coronary events
PROSPECT ABSORB, a randomized substudy, showed treatment of high-risk plaque with BVS is safe and associated with favorable long-term clinical outcomes compared to GDMT alone.
The studies were led by Prof David Erlinge, Lund University and Prof Gregg Stone, Clinical Research Foundation, NYC.
Positive results from the PROSPECT II and PROSPECT ABSORB studies were presented today as a "Late breaking clinical trial" at TCT, the 32nd annual scientific symposium from the Cardiovascular Research Foundation. The PROSPECT II study demonstrated the ability of near-infrared spectroscopy (NIRS) imaging plus intravascular ultrasound (IVUS) to identify plaques responsible for future coronary events. The randomized substudy PROSPECT ABSORB, which was simultaneously published in the Journal of the American College of Cardiology (JACC), showed treatment of high-risk vulnerable plaques with a bioresorbable vascular scaffold (BVS) was safe and substantially associated with favorable long-term clinical outcomes compared to guideline-directed medical therapy (GDMT) alone.
Several autopsy studies have shown that high-fat plaques are the underlying cause of most coronary heart disease, and when these high-fat plaques rupture and thromboticize, they cause the majority of heart attacks and infarction-related sudden death. The PROSPECT II study aimed to further demonstrate that high-fat plaques that are not seen on coronary X-rays, but which are detected by NIRS, are causing future heart attacks or angina.
The investigator-initiated, multicenter, prospective study included 898 patients from 16 sites in Sweden, Denmark and Norway and was coordinated by the Uppsala Clinical Research Center (UCR). Patients with recent myocardial infarction (MI) were enrolled after all visible and flow-restricting stenoses were treated with PCI (balloon dilation and stenting). A NIRS-IVUS catheter was used to image all three coronary arteries. The system uses NIRS to detect high-fat plaques and automatically displays a color-coded map, called a chemogram. The chemogram shows high-fat plaques in yellow and the absence of fat in red. High plaque content was revealed with IVUS.
A total of 3629 untreated plaques were characterized, an average of 4 per completed patient. Study results showed that adverse heart events occurred in 13.2 percent of patients within four years, with 8.0 percent from untreated plaques. The incidence of high fat content (> 325%) was an independent predictor of myocardial infarction or new-onset angina at both patient and plaque levels. The presence of high-fat plaques showed a 2.3-fold and 7.8-fold higher probability for patient level and lesion level, respectively. If there was a high-fat plaque that also had a high plaque burden, a 3.7-fold and 36.7-fold higher probability were seen at patient level and lesion level, respectively, compared if they did not have any of these high-risk criteria. The study authors concluded that lipid-rich plaques detected by NIRS-IVUS identify lesions that cause future heart events.
- An important result was that most of the future heart events were caused by plaques that were not revealed by angiography and pressure measurement, the methods used today. Instead, the combination of high-fat plaque and high plaque load was the strongest prognostic factor, says Prof David Erlinge.
PROSPECT ABSORB was a substudy that randomized 182 patients to stenting (93 patients) or medical treatment (89 patients). The study evaluated whether stenting could certainly improve the lumen of the coronary artery for plaques not identified on coronary angiography but where IVUS found plaque burden ≥65 percent (previously known risk factor). Follow-up with coronary x-ray was done after 25 months and the median for clinical follow-up was 4.1 years. Study results showed that follow-up of the minimum lumen area (MLA) in stented lesions was 6.9 ± 2.6 mm2 and 3.0 ± 1.0 mm2 in medically treated lesions, a difference of 3.9 mm2 which was very significant. Cardiac events (myocardial infarction and recurrent angina) occurred in 4.3 percent of the stented patients compared with 10.7 percent of the medically treated patients. The study authors concluded that PCI of lesions that are not considered significant on coronary angiography but with a large plaque burden was safe, increased coronary lumen and was associated with favorable long-term clinical outcomes compared with medical treatment alone.
- In addition to the important medical results, which provide an opportunity to better assess future risk and prevent coronary artery disease, we can be proud that the study was successfully conducted in Scandinavia by a unique network of PCI operators led by David Erlinge. We are grateful that InfraRedX, Abbot, the Medicines Company / Novartis, gave us the confidence to coordinate the entire study and objectively review outcome events, says Jonas Oldgren, head of UCR
Contacts:
Prof David Erlinge
This email address is being protected from spambots. You need JavaScript enabled to view it.
0733-746165
Cardiology,Professor at Department of Clinical Sciences
Hjärtkliniken, Skånes Universitetssjukhus
Jonas Oldgren
This email address is being protected from spambots. You need JavaScript enabled to view it.
Chef UCR, Uppsala Clinical Research Center
Cardiology, Professor at Department of Medical Sciences
Upsala University
Crucial findings on drug-releasing balloons and stents - Article in NEJM
No mortality increase with paclitaxel-coated balloons and stents in peripheral arterial disease
An interim analysis from the Swedish Drug-Elution Trial in Peripheral Arterial Disease (SWEDEPAD) has now been presented. It shows that, for patients with lower limb occlusive arterial disease, paclitaxel-coated balloons and stents do not bring about the rise in mortality previously reported. The study, led by the University of Gothenburg and published in The New England Journal of Medicine (NEJM), is expected to resonate internationally.
Peripheral arterial disease (PAD) is common, especially in older people, and causes poor blood circulation. The condition entails stenoses or occlusions of the arteries in the leg. This often causes severe pain, ulcers, and a high risk for lower limb amputation.
The most common treatment is endovascular balloon dilatation, sometimes combined with insertion of stents, small metal-mesh tubes that reinforce the vessel wall and prevent elastic recoil. The procedure, using a catheter inserted into the femoral artery in the groin, is minimally invasive — that is, performed with the least possible surgical trauma to the body.
What the researchers did, as described in the current report, was to compare patients randomly assigned to undergo either dilation of the blood vessel with conventional devices, without any drug coating, or with the more expensive drug-coated devices, all of them using paclitaxel as coating agent. With data on approximately 2,300 patients included to date, the study is by far the largest of its kind in the world.
The finding, that mortality rates in the two different groups do not differ, is expected to be highly influential. The question of a possible increase in mortality among patients treated with paclitaxel coated balloons and stents has been a subject of lively debate in recent years.
Solution to clinical dilemma offered
In December 2018, a meta-analysis of all previous randomized studies was published by Dr Katsanos and co-workers. Surprisingly, the article reported increased mortality among patients who had received treatment with paclitaxel-eluting balloons and stents compared to control patients.
The use of these products then declined sharply all over the world and the U.S. Food and Drug Administration (FDA) was among the organizations that urged caution in using them. In the subsequent discussion, the 2018 results were called in question; but until now no randomized study sufficiently large to settle the matter has been carried out.
The first author of the NEJM article, and also chair of the steering group of this study, is Joakim Nordanstig, associate professor of vascular surgery at Sahlgrenska Academy, University of Gothenburg, and senior vascular surgeon at the Sahlgrenska University Hospital.
"We're proud and pleased that we in this way were able to provide a solution to the tricky clinical dilemma that arose when long-term patient safety relating to the treatment with paclitaxel-coated balloons and stents was called into question," Nordanstig says.
"Above all, our results are important for all the patients who are living with PAD and are facing a lower limb arterial procedure. Drug-eluting balloons and stents have been used widely around the world, and currently represent the most promising technique we have for preventing postoperative recurrence of stricture in the dilated artery. That kind of recurrent stricture is by far the most important limitation of invasive interventions in PAD, and it's something that affects a lot of patients," he continues.
"It's also hugely gratifying that Swedish vascular surgery and interventional radiology, working really well together, have truly been able to help solve an international treatment dilemma. Our study is definitely a team effort, and all the vascular surgeons, interventional radiologists and vascular and radiology nurses in Sweden who've taken part can stand a bit taller today."
Reassuring result: new patients to be included
The corresponding author, and also the principal investigator of SWEDEPAD, Mårten Falkenberg, professor of vascular interventions at Sahlgrenska Academy, adds that the study is funded mainly by the Swedish Research Council. It is carried out within the framework of Swedvasc (Sweden's National Quality Registry for Vascular Surgery), which is administered by the Uppsala Clinical Research Center (UCR) at Uppsala University. UCR is where the study platform was developed and the data processing has taken place. Scientists at UCR have previously conducted several studies of a similar design, and the collaboration between the University of Gothenburg and UCR has been a success factor.
"It's unusual for an interim analysis to be published in the world's top-ranking medical journal. The reason for it is that, in all probability, our finding — although it's a negative one and thus doesn't demonstrate any differences between the treatment groups — solves a medical dilemma with major clinical and financial implications world-wide," Falkenberg says.
"With this convincing and reassuring result, we've resumed our study, and a further 1,400 patients are now to be included. When it's all complete, we expect to be able to show whether the new technique, using drug-eluting balloons and stents, improves the outcomes that are most important for patients with peripheral arterial disease; decreased amputation rate and improved quality of life, as this still remains to be proven", Mårten Falkenberg concludes.
- SWEDEPAD is the first registry-based randomized study in the Swedvasc registry and with its 2300 patients is the, without comparison, the largest study done of balloon dilation in patients with narrowed blood vessels in the legs. The study has been planned to include twice as many patients and will continue to hopefully later also be able to show effects on eg risk of amputation and quality of life, says Stefan James, Professor at the Department of Medical Sciences, Cardiology and scientific leader at Uppsala Clinical Research center,
- The fact that the study is published in the world's most cited scientific journal in medicine shows once again that UCR - as a register center for Swedvasc and co-responsible for the implementation of the study SWEDEPAD - has quality registers and clinical research that is world-leading. This study directly affects the treatment of patients with vascular disease in Sweden and around the world, Stefan James concludes.
Title: Mortality with Paclitaxel-Coated Devices in Peripheral Artery Disease
https://www.nejm.org/doi/full/10.1056/NEJMoa2005206?query=featured_home

Contacts:

Stefan James, senior professor i Kardiologi
Uppsala Kliniska Forskningscentrum och Institutionen för Medicinska Vetenskaper
Uppsala Universitet, Uppsala

Email: This email address is being protected from spambots. You need JavaScript enabled to view it.
Tel: 018-6119500
World´s most cited researchers
Congratulations!
To Lars Wallentin, Jonas Oldgren and Stefan James, three of UCR's researchers, who are on the list of the world's most cited researchers.
Congratulations also to UCR for being an organization that provides opportunities to create research results that are international cited and affecting development of health care in Sweden and the rest of the world.

- What does it mean that you have received this award?
"A recognition that our scientific work is important as it is widely used and quoted by other researchers. It is a sign of confidence that what we publish is of good quality and that our research is of importance to patients around the world." - Lars Wallentin
- Why do you think that 3 of the 4 Swedish researchers in clinical medicine have UCR as their origin?
"I think it's because UCR has managed to gather a lot of good forces and people who are driven by trying and wanting to do good.
For me, it also means that the leadership at UCR is strong and successful - that what Lars with a fantastic entrepreneurial spirit has built up has been managed and developed strongly by Bertil Lindahl and Jonas.
This is also possible because of the fact that Uppsala University and the University Hospital provide the conditions for strong clinical research and that the entire UCR gathers staff who are extraordinary. I think it's because there are many of us who have the will and power to work hard and that there is a great deal of generosity and community in and around UCR. " - Stefan James


- What is the secret?
"To create a group with the will and drive to seek new knowledge and constantly improve. Those common forces work together and create good circles. In addition, in that environment provide space for individuals who want to challenge their own abilities.
We also work with clinical research on major public diseases that create interest among the population, public and private financiers and companies that develop drugs and medical products.
We work in close collaboration with our national and international associations and universities, which gives us great visibility and opportunities to influence research, guidelines and implementation of research results" - Jonas Oldgren
-What needs to happen for more people from Sweden to be on the list?
"To provide inspiration and motivation so that more people want to work with clinical research and development. To create more collaborations and draw more people into the good collaborative forces that exist beyond daily small and big worries at clinics, institutions, and in the world around us." - Stefan James