Sponsor decision on continuation
Following the COMPLETEstudy, we decided to pause the randomization in the FULL REVASC study (September 11, 2019). To decide how to move forward with the study, we analyzed some preliminary and unadjudicated data, and our statistician presented new power calculations based on the current 1,545 patients. This data was sent to the Steering Committee and to the DSMB for discussion. Based on their discussions and recommendations, the study sponsor Karolinska University Hospital decided to change the study according to the mutual proposal.
In summary:
To definitely close inclusion of more patients into the study.
To change the primary endpoint to the triple composite of death, MI or unplanned revascularization.
To continue follow-up for all patients for 24-36 months after last patient in. The cut-off date being decided after a better estimate of event rates is available, when more patients have had their 1-year visit and event adjudication is under way.
We are now updating the protocol accordingly and we will send you the amended protocol as soon we have formal ethical approval for the changes made.
If you have any questions or concerns regarding this, please do not hesitate to contact us!
Pause in randomization of patients in FULL REVASC
Following discussions in the FULL REVASC Steering Committee we believe that the results of the COMPLETE study are strong. It was a well-conducted study with clear results and no safety concerns. Patients are to be congratulated. The results will probably change practice and if so reduce new myocardial infarctions.
As of today, we have 1545 patients included in the FULL REVASC study, which is by far the largest study on FFR-guided PCI of non-culprit lesions in STEMI. The data this will generate will be of great importance and complement previous studies. However, in light of the clear COMPLETE results for tight non-culprit lesions we believe it is most ethical to temporarily pause the inclusion of more patients in the FULL REVASC study. We will discuss our options thoroughly to get the best possible plan how to move forward from here.
The follow-up of all patients included in the study will continue as planned.
We are grateful for all work with this study in all contributing countries so far, thank you!
Best regards,
Felix Böhm (Study Principal Investigator) and Stefan James (Study Chair) for the Steering Committee
Recruitment update 11-Sep-2019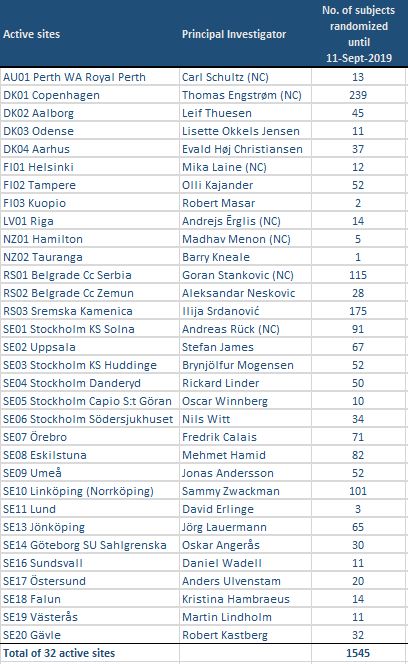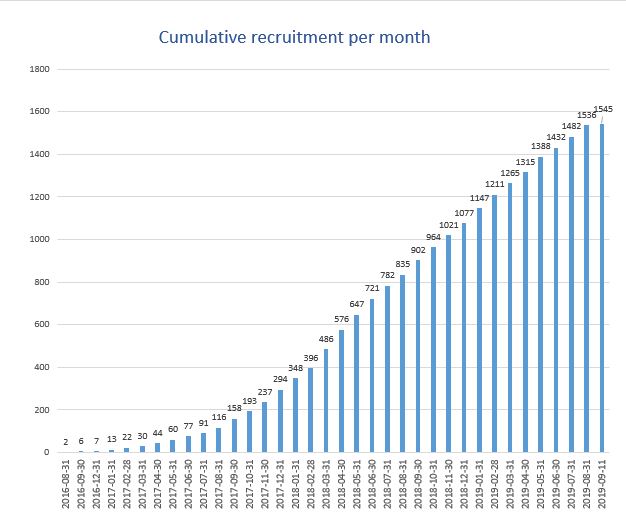 FULL REVASC - a RRCT on multivessel PCI in AMI
Ffr-gUidance for compLete non-cuLprit REVASCularization. A Registry Randomized Clinical Trial.
FULL REVASC will randomize 4052 patients with STEMI or high-risk NSTEMI, and multivessel disease, after primary PCI of the culprit lesion has been done. The treatment arms are
"Full revascularisation" with FFR-guided PCI of all vessels of at least 2,5 mm diameter. The PCI should be completed within the index admission.
"Initial conservative" with PCI of the culprit lesion only during index admission.
The primary endpoint is mortality and myocardial infarction after minimum one year follow-up. Key secondary endpoint is unplanned revascularization during follow-up.
The patients will be followed up by telephone interview after 30 days and one year. Data from healthcare registries will be used in countries where they are available.
The study will include a large number of PCI-centers in the Nordic countries, Latvia, Poland and possibly other countries. It is anticipated that the results will influence treatment guidelines globally. The inclusion time is planned to 2 years.
If your center is interested in joining the study, please contact the Principal Investigator Dr Felix Böhm, at Karolinska University Hospital in Stockholm, Sweden, or your National Coordinator. Please check under "Who are we" in the menu.
The full protocol and an executive summary is available under "Documents"
Measure FFR correctly
How to measure FFR correctly
Please read this short tutorial on the measurement of Fractional Flow Reserve (FFR).
Tutorial on the measurement of FFR